-NEW ARTICLES SECTION-
Click the link above!
RECENT SITE UPDATES!
06/29/15 - Guest Model: Laura from BarefootBrazil - Mega Photoset of Latina Toes & Soles
06/09/15 - Foot Worship Instruction Video from Alisha
06/02/15 - Michelle's Long and Lanky Bare Feet and Soles
05/19/15 - Alisha - Barefoot in THE POSE
05/12/15 - Ashley Lane in The Pose! Public Foot Fetish set.
04/28/15 - Alisha takes off her boots and shares her soles!
04/13/15 - Ashley Lane in hot barefoot video
03/31/15 - New Model Ashley Lane, barefoot at the Park! Close-up Soles and Toes!
03/10/15 - More Alisha on the Barefoot Bench!
02/24/15 - Alisha braves the cold to show off her Sexy Soles and Toes
02/17/15 - More Michele! Taking off Sexy Black Pumps for you!
02/10/15 - Michele shares sexy soles in the park!
02/03/15 - Arial Licks Her Soles! Hot new Video!
01/24/15 - Alisha on her Barefoot Bed
01/13/15 - Michele Public Restraint and Foot Tickling Video
01/06/15 - Arial does some Sexy Self-Sole Licking and Toe-Sucking
12/30/14 - Michele Shares Her Bare Feet and Soles on the Playground
I created the Beautiful Barefoot Girls website because I love female feet... Everything from the way that the bare foot is shaped to what it means to be expressive with bare feet and all that's in between!

We all have specific things we enjoy but we can all agree that there is nothing sexier than a Beautiful Barefoot Girl!

You see, my models have given of themselves to provide an intimate feeling of being right there with them... and it REALLY shows in their photo sets and videos!

The Beautiful Barefoot Girls website is like having over 52 "barefoot girlfriends" who LOVE to share their feet with you... and they are ready to let you enjoy their bare feet in any way you'd like!

I have over 19,000 pictures and TONS of special videos! And I should mention that these are ORIGINAL and EXCLUSIVE CONTENT that you won't find anywhere else on the web!It's a quick and simple way to INSTANTLY Turbo-Boost your private collection of bare feet, bare toes, toe sucking and two girl barefoot photosets!

But before you join, check out the FREE CONTENT... If it's something for you, I have several SAFE, SECURE and PRIVATE payment plans... Not to mention a site that's easy to navigate and allows for quick downloads!

Even if you decide NOT to join, you can sign up for my FREE NEWSLETTER for site updates, Newsletter-only pictures and cool female foot News.
You can sign up for the Newsletter on this page and on my Links page.

If you want the BEST "Girl Next Door" Barefeet, Toe Sucking, Bare Toe, Arch and Sole shots you've definitely come to the right place!

Thanks again for checking out my site!

Membership Area Currently Showcasing:
20725 Photos
669 Galleries
220 Videos


529 Photos in Minisets
42 FREE Galleries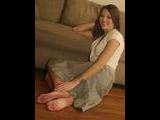 Due to recent challenges with the Email Service Provider,
I am no longer able to have a Newsletter List. I'm sorry to the
faithful subscribers, but the last 8 years of Newsletters are no longer
accessible. I will be placing them on this site for all to enjoy.



Here's what OTHER SITES are saying about
Beautiful Barefoot Girls!

"For those of you who love and worship feet comes Beautiful Barefoot Girls. A site that features some beautiful looking girls in some amateur foot fetish action. Members can expect to see the models with "the girl next door look" posing in some foot fetish images and movies. The variety of the content is great and the models seem to love showing off their fine toes. Definitely a foot lovers heaven.
- Adult Site Surfer.com

"All original pics of cute, natural girls next door showing their beautiful Bare feet. The site is warm, friendly and achieves it's goal of helping you feel like you're right there with the girls and their feet."
- FeetNetwork - Site of the Month

"I was very impressed with the amount of picture galleries and videos available on this site, there are plenty enough to keep anyone with a foot fetish more then happy. With all their content being original and the site delivering what it promises, you should take a few moments to visit this site ..."
- Monica's Porn Review
"I want to compliment you on the fantastic website you have. You've got some of the most beautiful women on your website. Kenzie and Jamie are my favorites. That Jamie is especially gorgeous."
-Candid Street Feet
Here's what MEMBERS are saying about
Beautiful Barefoot Girls!

"I love your website and I love girls with big feet!"
- Francisco from Spain

"I'm really enjoying being a member here. Wow, all of the models are gorgeous and their feet look so perfect. I still have to pick my favorite models. You are one great photographer! Please keep going for a very long time. You do a wonderful job! Thank you!"
- John from Virginia

"The thing I like most about your site are the AWESOME sole shots you give us... I feel like I could just stick my tongue out and lick 'em, the shots are that good!!! ...All of your models have beautiful feet. I am truly looking forward to spring, just like you, to see all those beautiful white winter feet come poppin' out into their flip-flops for us all to admire! Thanks for all you give to us, Tommy, and keep up the great work!!"
- Jimmie from Ohio

"Your selection of models are great, the pictures are both delicious and professional. The female body is a very sexy object and feet and toes are definitely the icing on the cake."
- J from Ontario Canada

"The web site is great and each time that I view it, it just keeps getting better!!! The feet are beautiful. I particularly like long toes. The best feature of this website is the close ups. I love to see details of pretty feet. It makes you feel that their feet are right in your face."
- Keith from New Jersey

"TOMMY YOU'RE AWESOME... nobody has foot sites like yours ,GREAT JOB to you and all your models... keep up the great work..."
- Alex from PA

"I love the layout of your website and I like the poses... The models look happy to be there!"
-
Shane from Toronto