-NEW ARTICLES SECTION-
Click the link above!
RECENT SITE UPDATES!
05/21/13 - Kristina's Stunning BareFeet in a POSE Photoset! Public Foot Fetish!
05/14/13 - Alisha's New Shoe and Sock Removal Video!
05/07/13 - NEW MODEL! Kristina Shows Her Toes at the Park!
04/30/13 - New Video! Jen and Whit Barefoot! Two Girl Video!
04/23/13 - Graysi's Petite Peds Barefoot and POSE in the Park
04/16/13 - NEW MODEL! Whitney's Cute Toe Pointing
04/09/13 - NEW MODEL! Graysi's Cute and Tiny Feet
04/02/13 - NEW MODEL! Jennifer's Cute Feet and Soles
03/26/13 - Amy's Cute Bare Feet in Public - New Video!
03/19/13 - Public Sole and Toe Tickling Video with Amy!
03/11/13 - NEW MODEL: Amy's Cute Bare Feet and Tiny Toes
02/26/13 - More of Sara's sexy Soles in Jeans!
02/19/13 - Alisha's Feet Get Tickled! New Video!
02/12/13 - Sara's Sexy Bare Feet and Jeans - Close up toes!
02/05/13 - Carmen's Toe Wiggling and Sole Wrinkling Video
01/29/13 - New Shoe Removal photoset from Sara!
01/22/13 - DB's Sexy Flat removal Video!
01/15/13 - More of Sara's Smooth Soles at the Park
01/08/13 - Sara's Sexy Soles and cute Toes
01/02/13 - 2 Girl Photoset: Staci & Michelle's Cute Barefoot Fun!
12/18/12 - DB's Smooth, Young Soles and Pale Toes
I created the Beautiful Barefoot Girls website because I love female feet... Everything from the way that the bare foot is shaped to what it means to be expressive with bare feet and all that's in between!

We all have specific things we enjoy but we can all agree that there is nothing sexier than a Beautiful Barefoot Girl!

You see, my models have given of themselves to provide an intimate feeling of being right there with them... and it REALLY shows in their photo sets and videos!

The Beautiful Barefoot Girls website is like having over 52 "barefoot girlfriends" who LOVE to share their feet with you... and they are ready to let you enjoy their bare feet in any way you'd like!

I have over 18,900 pictures and TONS of special videos! And I should mention that these are ORIGINAL and EXCLUSIVE CONTENT that you won't find anywhere else on the web!It's a quick and simple way to INSTANTLY Turbo-Boost your private collection of bare feet, bare toes, toe sucking and two girl barefoot photosets!

But before you join, check out the FREE CONTENT... If it's something for you, I have several SAFE, SECURE and PRIVATE payment plans... Not to mention a site that's easy to navigate and allows for quick downloads!

Even if you decide NOT to join, you can sign up for my FREE NEWSLETTER for site updates, Newsletter-only pictures and cool female foot News.
You can sign up for the Newsletter on this page and on my Links page.

If you want the BEST "Girl Next Door" Barefeet, Toe Sucking, Bare Toe, Arch and Sole shots you've definitely come to the right place!

Thanks again for checking out my site!

Currently Showcasing:
18903 Photos
607 Galleries
194 Videos


529 Photos in Minisets
42 FREE Galleries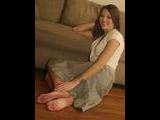 Due to recent challenges with the Email Service Provider,
I am no longer able to have a Newsletter List. I'm sorry to the
faithful subscribers, but the last 8 years of Newsletters are no longer
accessible. I will be placing them on this site for all to enjoy.