The Beautiful Barefoot Girls - Vol. 1
The Beautiful Barefoot Girls Vol. 1 is an ASSAULT on the senses... This video is a combination of many short segments... and all segments are set to ORIGINAL music, so you can get lost in the moment with each Beautiful Barefoot Girl. This video starts with Amber, a new gal with small feet. She gets into the Bathtub and starts this video off by showing off some really sexy "bath feet", complete with bubbles and warm water. Her small, petite feet are even cuter when wet. Then, Amber uses lotion and rubs her feet for you, letting me zoom in to watch the pleasure she gets from rubbing her toes and arch.

Next, is Jules. Yes, that's right, the infamous Jules from the photo sets. Jules starts off by slowly removing her cute running shoes and lets you explore her wonderful bare feet. Jules then uses lotion and rubs her feet for you, shoving her feet RIGHT INTO the camera. Jamie is back as well, with two segments... one where she removes some sexy shoes and one where she rubs her feet with lotion.

Then it's Jamie and her friend Julian. These two gals lay together on the bed and rub their bare feet together. Finally, it's another new gal that you are going to LOVE! Her name is Jessica and she's got PERFECT feet! She starts off wearing a pair of strappy black leather shoes and removes them for you. She then rubs her bare feet with lotion. So, it's shoes that come OFF, wet and warm BATH FEET, lots of LOTION and foot rubs, along with TWO pairs of sexy feet rubbing each other.

This video also includes a BONUS SlideShow of Exclusive and Original pictures!

This is a video that you WON'T SOON FORGET... You get FIVE GIRLS, in NINE VIDEOS, plus the Bonus SLIDE SHOW of over 30 images that you won't see anywhere else but here on this video.
Click HERE to see the commercial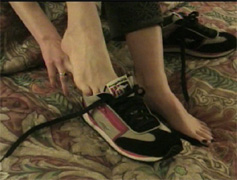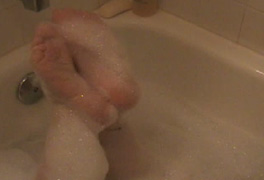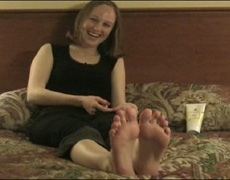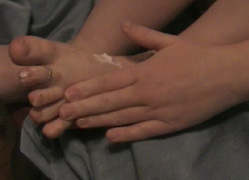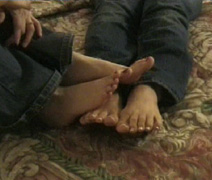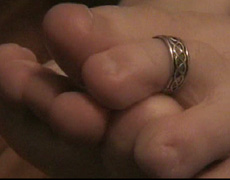 Running Time is 37:52 and available on DVD for $29.97