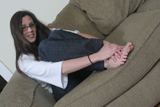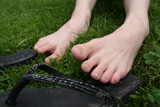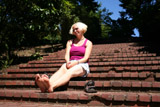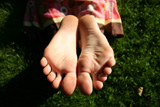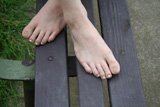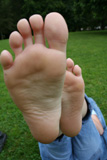 Beautiful Barefoot Girls Tips & Techniques - 4 Places to See Perfect Peds!


As I've mentioned before, awesome feet are quite literally EVERYWHERE...

And I am always on the lookout for new and exciting girls to pose for the Beautiful Barefoot Girls website...

From a couple Newsletters ago, you know the criteria I use in order to find those special gals who are cool, level-headed and most importantly have wonderful feet... oh yeah, and those who are open-minded enough to share them with us... Ha ha!

So, I'd like to present my personal view about where to go to find those female feet...

First off, let me mention a personal "disclaimer"... It's important to respect the feet... and the female they are attached to... So, above all else, DON'T ACT LIKE A STALKER... if you stare, drool or approach a woman too quickly she'll get creeped out and you've lost any chance you've had of even TALKING to her, let alone be able to touch or photograph her feet...

So, before you do ANYTHING... remember that you need to be cool, laid-back and DO NOT BE CREEPY!

It sounds kinda funny, but I am serious...

Oh yeah, I should mention too that these aren't in any particular order... these are some of the best places to go to check out some sexy female feet...


Perfect Ped Place #1 - The Park
Yes, the park is a FANTASTIC place to see those wonderful bare feet that we adore...

As the weather outside gets closer to summertime, you'll notice that the shoes start "magically" falling off...

And the park is great because it's a place that just about everyone frequents... and since all female feet are unique, the park is a wonderful place to be exposed to a lot of feet in a short amount of time.

The park is also great because it's a whole different conglomeration of feet... there are moms there that walk around barefoot... there are gals who are in college that walk around barefoot... just about anyone you can think of is a candidate for going to the park...


Perfect Ped Place #2 - The Coffee House
I live in the Pacific Northwest, and coffee is a pretty big deal here... there is either a "mom-and-pop" type coffee place on the corner, or the kind that start with a "Star" and ends in a "Bucks".

And since just about everyone drinks coffee (or some relative form of it) that means that there are more and more female feet at coffee houses...

Yes, coffee houses are great because they are kind of like a "third home" for many people.

The coffee houses that are close to my place offer couches and comfy chairs... that the true Beautiful Barefoot Girls use to their full advantage.

There are a number of models whom I've met at coffee houses that started out being wonderful foot models and turned into great friends!

So be on the look out for those gals who shed their sandals when reclining on the sofas, pull their feet out of flip-flops while waiting in line and simply take off their shoes underneath those tables!


Perfect Ped Place #3 - The Mall
"Mall Chicks" are GREAT... they're great because they are all about themselves... they take care of themselves and love to show off...

And this means wearing flip-flop sandals and skimpy shoes....

So the next time you're at the mall, walk by "The Gap" or "Old Navy" and see how many of the girls in that store and that go into those stores are wearing flip-flop sandals...

If you haven't paid attention yet, you'll be pleasantly surprised to see that just about each and every one of them is wearing something small on their feet!


Perfect Ped Place #4 - The Beach
If you live near an ocean or a big-ass lake, chances are that girls going barefoot is "the norm"...

For those of us, myself included, who don't get out to the Beach very often, it's a REAL TREAT when we finally do...

It's almost like a requirement to NOT wear shoes at the Beach...

I mean, where else can you see feet in a more "natural" kind of environment... and like the park, it's a place where you can see TONS of bare feet in a short amount of time.

So, there you have it... four places to check out those wonderful bare feet... Where do YOU go to check out girls feet? Write me and let me know...

Comments or Questions??

I'd LOVE to hear about them... Write me directly by clicking on the envelope!





Copyright 2007 Beautiful Barefoot Girls.com