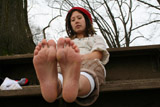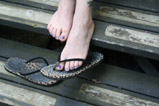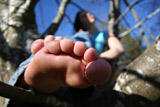 Beautiful Barefoot Girls Story - The Barefoot Barista


I was dropping off a friend at a large chain hotel the other day. When I was in the lobby I noticed they had a coffee cart there...

I went over to the coffee cart and ordered a large coffee. The girl behind the counter was really cute... She was probably about 24 or 25 with short, red hair and some super cute glasses... And you know how I feel about glasses! Ha ha!

I walked over to the side of the cart to wait for my coffee. When I got to the side I noticed that she was barefoot...

When she handed me my coffee I asked her if she was in violation of some sort of health code because she was not wearing shoes... or socks!

In fact, I could see her shoes and socks placed neatly behind the counter!

She immediately went into "defensive" mode and started telling me about how she hurt her feet or something like that...

Honestly, I wasn't paying too much attention to her words as much as I was paying close attention to her toes!

She stopped when she figured out that I was kidding with her.

I hung around and talked to her for a bit after she helped a few other customers... and here's what I found out...

She's a former dancer and thinks her feet are trashed from dancing... but I would disagree. The only difference that I saw was that she had her toenails clipped really low... and I remember this being common among dancers.

I asked her if she danced anymore and she said no... that she just cuts her toenails really short out of habit.

We chatted some more with some small talk and, as you could have guessed, she is into feet... but from a "being barefoot" perspective.

While I didn't come RIGHT OUT and say that I have a female foot fetish, she could probably tell that I was getting excited about her feet.

And she didn't mind... in fact, I think that she really enjoyed it.

Yes, another instance of coffee and feet going together! LOL! Are we seeing a trend here, perhaps?!?

Oh yeah, we ended the conversation with an exchange of phone numbers and the "promise" of a Sunday night foot rub... with her being on her feet all day long and ready to start HER weekend!

And hey, if you have some techniques of your own you'd like to share with me... please send me an email... I really value feedback and appreciate "real world" advice just like you do!


Comments or Questions??

I'd LOVE to hear about them... Write me directly by clicking on the envelope!





Copyright 2007 Beautiful Barefoot Girls.com