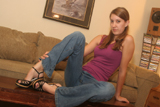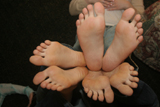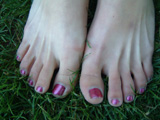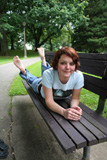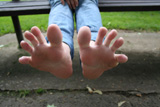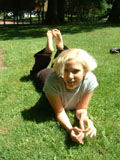 It wasn't until my early 20's that I came to grips with my foot fetish... And like most of us Female Foot Lovers, I ALWAYS knew that I adored feet, especially BARE FEET.

I even knew this when I was a kid, but I didn't know what it was and what it meant...

Of course, now that I am older I have a better understanding of my female foot fetish. In fact I have shared it with those who are close to me and literally thousands of others all over the world (via the World Wide Web).

There are many reasons why I like feet, and I'm sure that you'd agree with me... In fact, I even wrote an article about it. Click here to check out my Article "Top Ten Reasons Why Female Feet are Special".

But I want to go beyond that.

I want to talk about the Psychology behind it... and how important it is to be honest with yourself about your love of Female Feet, what you do about it, and how to talk to others about it.


Why Female Feet?
Probably the most common question I am asked is: "Why do you like Female Feet so much? After all, they are just feet".

True... they are just feet.

But to us Female Feet lovers, feet are SO MUCH MORE!

Female feet are shaped like the female body... they are curvy and shapely.

This gives them a "sex appeal" based on their form.

Also, bare feet are unique, they are one of a kind for each gal.

And this is the reason why each and every new bare foot I see is a wonderful and cherished experience.

I mention that a girl going barefoot is like an expression of freedom. It shows society that she doesn't care what they think of her and she wants to be more "natural".

One way that girls are more natural is to go bare foot... that is to feel the earth beneath their feet.

So when confronted by someone about my foot fetish I feel out the situation and tell them all of these or a combination of them:

1. Feet are shapely.

2. Feet are unique and special to each girl.

3. Going barefoot is an expression of freedom.



Why and When Share Your Female Foot Fetish?

It doesn't matter at which stage in your life you realized you have a foot fetish... And it doesn't matter how "strong" your fetish is, or even how you came to grips with it.

What does matter is that you are true to yourself...

If you are honest with yourself and feel free enough to express your foot fetish you'll find that you are a healthier person mentally and physically.

I get several questions about when and how to share the fact that you have foot fetish with people... granted each and every situation is going to be different.

And it wouldn't be surprising if each situation was radically different... This is just a part of life.

So, I tend to NOT bring it up, unless it comes up in conversations.

Nine times out of ten, it's a friend who knows I run this website that is speaking to someone else... and then I get confronted directly.

Of course, keep in mind that people are only CURIOUS...

And there is a good chance that THEY have a foot fetish and have not come to fully accept it.

Regardless of the circumstances, just be cool... don't blow anything out of proportion and use the things I mentioned above as points of discussion.

Chances are they will agree with at least ONE point I made! (And that you'll make too).

On the flipside, don't flaunt or push your foot fetish on anyone... remember, if you are mean and pushy about seeing a gal's feet there is a good chance that she's going to "shut you down".

In other words, when dealing with women you should ALWAYS keep your cool and be "laid back". You'll notice that the guys who are most successful with women, know how to lean back while being in control.


Bringing It On Home

We are truly blessed to have this forum on the internet... and I am proud to be the creator of this website.

All my websites have been created to embrace the female foot in all it's GLORY and SPLENDOR!

Thanks for reading!

I am sure that you have your OWN reasons why you love female feet.
And I'd LOVE to hear about them... Write me directly by clicking on the envelope!





Copyright 2007 Beautiful Barefoot Girls.com